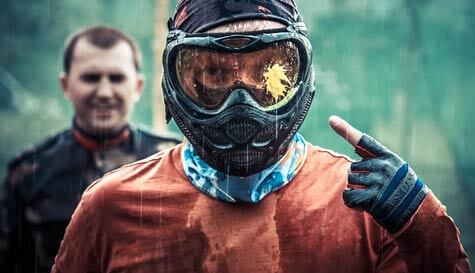 The simple fact is paintball remains one of the greatest stag activities ever!
Where else can you get to shoot the groom in the man veg?
From close range?
Repeatedly?
Yep, paintball is basically legalised violence, gentrified by the meagre introduction of paint rather than bullets and by giving everyone body armour (you could still get the odd bruise/badge of honour) and facemasks. Our Hvar stag party paintball site is a complete stag weekend Call of Duty, forget the games consoles, how will you cope when the paint hits the fan? That duty being to give the groom a complete Dulux makeover ("It's what he would've wanted...").
We'll arrange transport for your team to and from the site, on arrival the guys will get kitted up with facemasks, camo suits, body armour and state-of-the-art semi-automatic weapons. You'll also have 100 paintballs each to get you started (you can buy more if needed). You'll be split into two teams and then given your objectives, shake hands/trade insults with the opposition and then when the whistle goes... It's war!
You'll need tactics, precision, teamwork and a willingness to take one (potentially in the happy sacks) for the team. The fantastic weather and great setting help make this a little bit different from paintball sites back home. But no matter where it's played paintball is awesome! Running around the woods, with a semi-automatic weapon in your hand, hell-bent on giving the groom the send-off he deserves.
Come and have a go if you think you're hard enough!