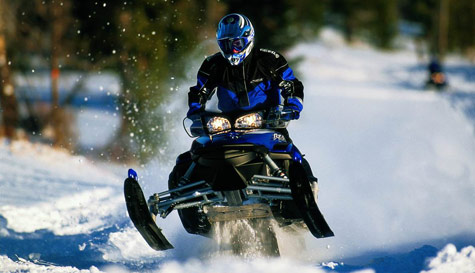 Forget "walking in a winter wonderland", if you want to truly explore the snow-capped great outdoors the only way to do it in suitably stag style is with some serious horsepower.

No, there's not one-horse open sleigh here, this is petrol-powered man madness all the way that even Jez Clarkson would approve of. The two-hour mountain trail safari will see you working in tandem to add to the fun as you take it in turns on the machines with one stag taking the controls while his fellow stag holds on for dear life and curses his mate's love of the throttle and failure to understand basic physics.

The epic 8 mile route through the Tatra Mountains takes in some stunning scenery with incredible mountain views, but you don't need to worry about getting lost, we've seen those movies too and no one wants to be stuck halfway up a mountain wondering if push comes to shove, which of their mates would be tastiest. That's while we'll arrange two expert guides to lead the way, show you some spectacular sights, help you get the most out of the machines and bring you all back in one piece.

After all, you don't want to come back and have to explain to the bride-to-be how you had to eat the groom, based on the fact that as he's vegetarian you figured he'd provide the rest of you with a most balanced diet.

During your Krakow stag do snowmobile excursion you'll be sitting astride powerful Yamaha or Polaris machines, they have automatic clutch to make the driving easier for first times, you'll also all be given safety helmets to protect you from the worst of your partner's driving.

This is the ride of a lifetime and something the guys will remember for years to come, and who knows, you might even come face to face with a real-life stag?