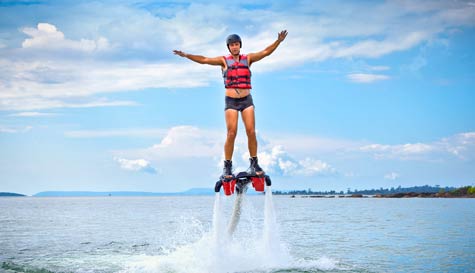 You'll look cooler than 007 himself as you take to the sky in something that looks like it's come straight from Q's MI6 workshop. This astounding bit of kit creates phenomenal amounts of thrust to lift you majestically into the air where you can perform loops, rolls and tricks as the rest of the stags look on and applaud (or look on and thoroughly take the p*** as is more like most stag groups).
This is without doubt one of the coolest and unusual stag activities around and something the lads will be talking about for days. Each stag will enjoy a 10-minute flight while the rest of the guys can relax and watch each other with your cameras at the ready to capture each other in flight. This a great opportunity for plenty of stag banter between the lads and there's always that hope that you'll get to see the groom perform a stunning faceplant and of course it is your duty as best man to ensure that moment gets uploaded to Facebook, Instagram, YouTube, Vimeo, his office intranet... Yep, a face full of lake for the blushing bridegroom while the watching stags shout to tell him exactly how worried they are and offer words of encouragement You look like a fat Superman!
As well as being kitted up with the space-age looking jet pack the stags will also have wetsuits to keep the important bits warm and dry. The adventure will start with your crack team being picked up from your accommodation and taken to the site. It's then game on as all the guys get to soar like superheroes (or plummet like hungover stags). At the end of the session transport will be waiting to take you back to town where you'll get a round of complimentary beers as you argue over who was the most acrobatic and who literally bombed.