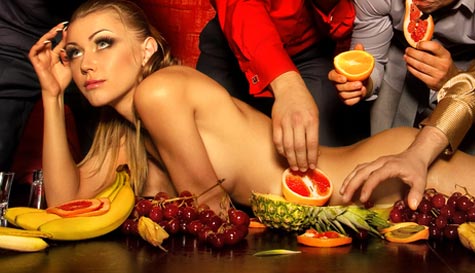 First things first, congratulations on making the decision to take the boys on tour in the Catalan capital. Barcelona is an epic city, and the nightlife here is truly spectacular. However, if you're starting to feel the weight of the lad's expectations on your shoulders, don't sweat it. With our Barcelona stag party steak, stripper, drinks and club night you'll go from stag organiser to stag legend as you treat the boys to an evening they'll never forget.

This is an awesome way to set the pace for your big weekend, as you show the stags a side of Barcelona that they definitely didn't read about in their guide books the sexy, raunchy and seductive side. Your evening of stag action will kick off with a delicious 3-course meal featuring a main course of steak (extra man points if you take it raw).

You'll also get your first round of drinks totally free; choose from beer, wine or Spanish favourite sangria to get in the mood for a Catalonian night out. Then, you'll be lead into an exclusive, private room where you and the boys will be treated to a sexy strip show performed by a fiery Spanish beauty.

After this spectacular performance, you'll head down to one of Barcelona's best nightclubs. But you won't need to worry about any on-the-door charges, because we'll arrange for you to get in absolutely free. Carry on the party into the small hours, and just like back home in the UK; we're sure there'll be somewhere to get a kebab!