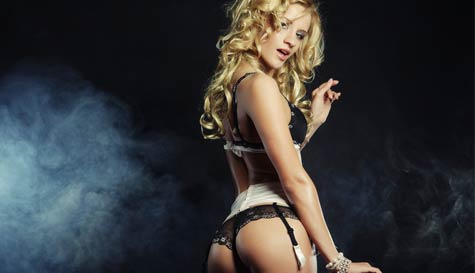 It's not really a stag do unless you do a little something to put an extra smile on the blushing bridegroom's face. This is his last big weekend with the lads as a single man and should be celebrated in fitting style. And if that happens to include one last look at the types of treats that will soon be totally out of bounds (like a strip show) then you will most definitely have done your job as stag party organiser.

And while the stag might be expecting a trip to a lap dance club you can totally catch him unawares by arranging a stripper in a private bar room or even at your hotel, hostel or self-catering accommodation.

The show lasts around 15 minutes which will be the highlight of the weekend for not just the groom, but also make you the toast of all the stags.

If you want something a little different we have plenty of epic stripper pranks and activities to choose from...

Roly Poly Stripper - If the groom likes the larger lady or you just want to see his face when the arrival of his stag stripper actually blocks out the sun then this is a surefire winner. A hilarious twist on the usual stag strippers that even the bride-to-be won't land him in any trouble with the bride-to-be.

Hitch Hiker - En route from the airport to your hotel, or on the way to one of your activities the driver will pull over and pick up an innocent-looking hitchhiker. But once onboard she'll start to really enjoy the music, so much so that she suddenly starts stripping virtually on the groom-to-be's lap!

Sexy Maid - Room service never looked this hot before!!! The maid will come to strip the groom's bed a little early, however, it's not the sheets that will end up being thrown on the floor but the maids own clothes as she gets her kit off right in the nearly-wed's hotel room. Now that's what you call "room service!"

Strip Dinner - Steak dinner... Beers... Strip show... It's all the basic ingredients for an epic stag night out all in your own dining room with a private show. A lesbian show is also available.

Lap Dancing - We'll arrange guestlist entry to some of Europe's hottest lap dance clubs. After all it's not really a stag do unless you take the groom for one last look at what he'll soon be missing.