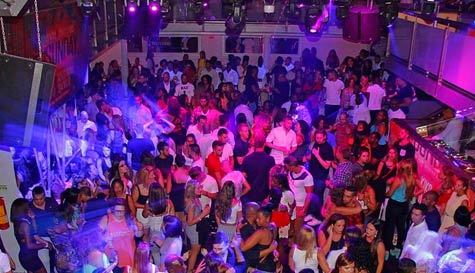 Queueing for the club? Paying for your own drinks? Not on our watch. You and your boys are true lords of the Stag and deserve nothing but the finest VIP experience when hitting one of Portugal's hottest nightspots, The Dock's Club. Often described as the epicentre of Lisbon's nightlife this is the place to be when celebrating one of the most important weekends of your groom's life.
A favourite for locals and visitors alike and practically holy ground for hardcore clubbers, The Dock's Club sits on the banks of the river Tejos in Lisbon and will be your playground for the night as you party like the VIPs you are. When you've skipped the queue ('Do you know who I am?') and been ushered inside, you and your stag party will be led past the velvet rope to the VIP area with VIP tables carrying drinks for the group. This will be your new home for the night and once you've settled in it's time to take a look around and boy is there a lot to see.
There are six awesome bars (yes six), three private areas (for VIPs like you), an outside 'chill out' terrace and one great big dancefloor where you can watch the groom strut his stuff in total freedom for the last time. Poor fella, they grow up so quick... The music varies from night to night which means that no two nights are ever the same so make sure to bring your dancing shoes and your slickest moves. Or just dance like no one's watching.
Being situated in such a good location means that there's plenty of transport options including buses, cabs and trams to make sure you and the boys get to and from the club with ease.
The Dock's VIP package also includes the choice of two drinks packages to add to the VIP feel.
Package 1 - Includes entry and one drink person
Package 2 - Includes entry and a bottle for each table. VIP tables seat four people and you can choose from whiskey, vodka or gin. (Mixers are not included).