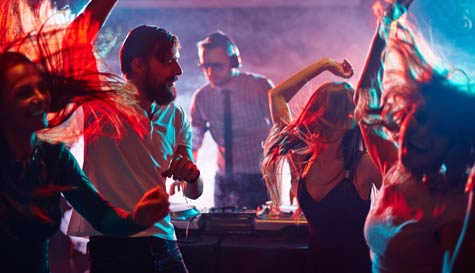 Why waste time standing outside a club getting thirsty when you could be inside getting freaky?!?
Whoever said "There ain't no party like an S-Club party had clearly never lived it up StagWeb style. Our VIP nightclub package will ensure you and the guys get top class service at one of Lisbon's top nightclubs to make it a night to remember.
Your clubbing experience will start when you're met by our friendly local guide who will escort you to the club and help you bypass the queues where your names will be on the guest list. Once you've been waved in by the friendly door staff (oh yes, they're all smiles when you're on the guestlist) you'll be shown to your VIP table/s.
You can have a maximum of ten stags per table, larger groups can have multiple tables. Each table comes complete with a drinks package of spirits plus mixers so you can raise a few glasses to the groom/condemned man. You can share the drinks and a few laughs before hitting the dance floor and watching the groom partying like a man about to spend the rest of his life force-fed a diet of nights in, soap operas and Sunday morning trips to Ikea.
But this fantastic VIP treatment will take all the hassle out of the night and allow you to focus on partying like gods!