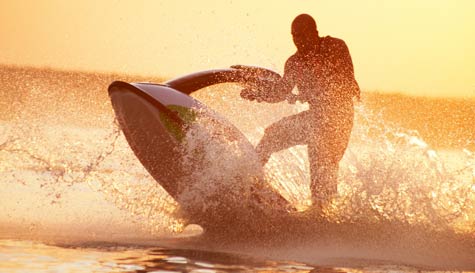 Yes, you can spend the day crying into your pillow and wishing that hangover away. Or you can man up and do something about it! This all-action activity is cooler than James Bond's fridge and the perfect way to kick any sore heads into touch.
The fun begins on Levante Beach where a friendly guide/instructor will introduce you to your machines and show you the controls. Once they're confident all the guys aren't about to be a danger to themselves or others, it's time to saddle up and hit the waves. You'll ride in pairs so while one is pulling back the throttle and aiming for the biggest waves to get maximum air, his poor partner will be hanging on for dear life and screaming like the groom at a Take That concert.
Your destination and halfway point is the stunning Peacock Island, where all the guys can dismount and cool down in the stunning Mediterranean waters as you take a swim break. But time and stag fun wait for no man, once everyone is feeling chilled it's time to get back in the saddle as you switch drivers and head back at roughly "Waaaaaarrrghhhh" miles an hour. The activity takes approximately thirty minutes.
If you believe in taking things to the max, you can upgrade to the one-hour safari past the Sierra Helada Mountains and on to Altea Bay. You'll still get a swim break but also bigger, harder riding.
This really is a great way to push the stags and try something new while creating amazing memories of an epic Benidorm stag do. Ask our team about teaming the Jet Ski activity up with a beach bar or evening entertainment. Create your perfect weekend package to give the groom a weekend to remember.