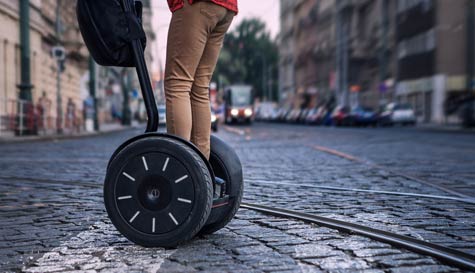 If you're looking for a real stand out activity that the guys will probably not have tried before then Segway riding ticks the boxes in all the right ways. It's cool, it's funky, it's fast and there's a chance that you might all get to see the groom go flat on his face (not that we want anything bad to happen to him but, well it is a stag do after all...)!
The tour with your English speaking guide who will introduce you to the machine and get you all up and running (rolling). The tour then stretches from the Puerto Banus harbour
heading along Marbella's infamous Golden Mile. The New Golden Mile is the stretch between San Pedro in Marbella and the East part of Estepona. The beaches along the New Golden Mile, famed for its fine golden sand and the stunning Mediterranean waters. But the sharp-eyed stags won't just be scoping the beach babes, they'll also use this fantastic tour to check out the best bars, clubs and restaurants along the seafront.
But best of all... Segways are simply brilliant fun to drive. They're certainly not easy and do take some getting used to which just makes the challenge more fun, but once you get the hang of it you'll realise how stupid you've been by using anything as boring as feet all these years when you could have been gliding along on a Segway.
So if you want something a bit different, loads of fun, with a chance to check out the beach babes and work on your tans then this is definitely it.