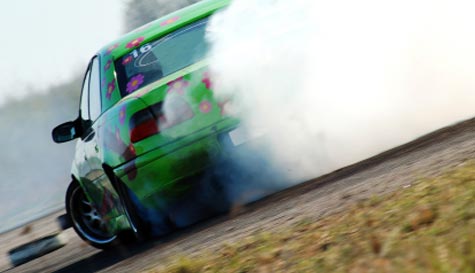 Learn how to conquer this dangerous driving mishap which often slows drivers down in icy and wet conditions and, in a controlled environment, have a whole lot of fun with it! Skid pan driving is one of our finest motorsports adventures which provides something completely new and unique for you and your mates to try.

It's a good break from more classic go karting or quad biking experiences and it's something that you and your friends definitely won't have tried out before. Hit the pan and try your damndest to control the motor that naturally tries its very best to slip, slide and get away from you in any which way it can!

Hold on to your horses and try to keep your trousers dry as you and the boys skid like maniacs out on the extreme track and learn how to drive in dangerous wet road conditions and even black ice and aquaplaning.

This potentially dangerous activity is done in a safe and relaxed environment so that you and the boys can be sure of having the maximum amount of fun while ticking off some valuable skills and learning from the very best skid driving instructors around. It'll set the pace for an exciting and fun-packed stag weekend and is sure to give the lads top memories to take away from the stag do.

You'll be skidding in teams in which you'll compete to race around the course whilst controlling your skids all the time and attempting to hurry back to the pits before swapping places with another of your mates. This activity turns something boring that your driving instructor tried to teach you back in the day into a terrific mix of fun, adrenaline as well as nail-biting competition.