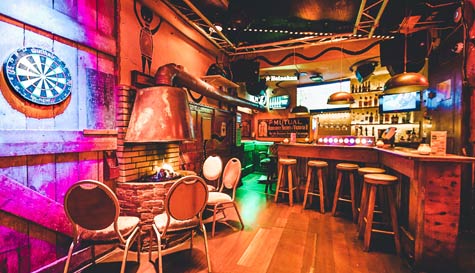 Napoleon Bonaparte knew a thing or two, it was old Bony who said, "A stag army marches on its stomach." (or words to that effect). Ok, so we're paraphrasing but he was right, one thing that will definitely keep all the stags happy is some bloody good grub. And if you're talking 'bloody good' then you need it Aussie style.
Set right in the heart of the most popular party district in Amsterdam is this great Aussie diner. Strewth mate, this is a bonza place to get fed. We'll have your table booked and waiting for you, you can even order your meals in advance and it's all pre-paid so there's no need to do a Rachel Riley (or Australian equivalent) with the bill.
The venue also has over 30 screens showing sporting action from around the world, so you can be sure you'll get any football/cricket/rugby matches you might be missing while you're away. Plus, it's right next door to a shooter bar with over 70 different types of shot to try.
If you want pickled lettuce tears in a freeze-dried buttercup jus then you're in the wrong place, this is proper grub, big, brash and there's loads of it. What's more, it tastes amazing!
Menus are seasonal but may include:
Burritos
Nachos
Kangaroo Steak
Rib Eye Steak
Ribs
Chicken Wings
Beef Burgers
Chicken Burgers
Kangaroo Burgers
Beef & Ale Pie
Chicken Pie
Kangaroo Pie
Chocolate Nachos
Melting Cake