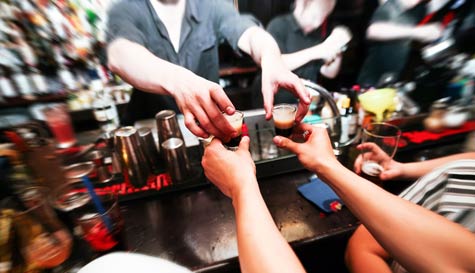 Our Bar & Lap Dance Crawl is the perfect introduction to one of the world's most famous party capitals. You sample the local delicacy (beer), check out some of the city's most popular bars and see the best *ahem* "sights".
You'll be met at a pre-arranged location by our fun, friendly guide who'll take you straight to three of Amsterdam's most popular bars without any hassle at the door. Plus, to make sure you start as you mean to go on, you'll have a free round of shots in the first bar.
No time to waste, there's drinking to be done. It's on to the next bar. Just like before, our guide will get you past the doormen, so you can focus on giving the groom the amazing night he deserves. You'll also have discounted drinks in each bar to give you more bier for buck.
Once you've sampled all three brilliant bars, it's time for the main event, guest list entry to one of the city's most popular lap dancing clubs. This is an extremely professional, tightly run venue with some of Europe's hottest dancers performing stage shows and generally making the place look amazing. If you're feeling charitable you might even fancy treating the groom to a private show.
Once the guest of honour's mind has been suitably blown you'll end the night with entry to one of Amsterdam's top nightclubs. You really will be 'overwinning'.