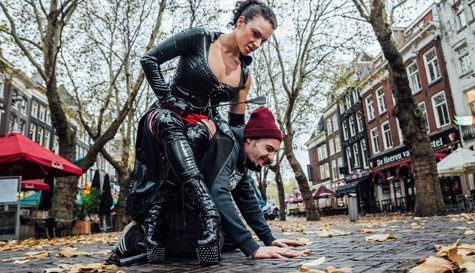 You can't let the groom go walking into this marriage lark looking all happy. He clearly doesn't know what he's letting himself in for and what kind of mate would you be not to help him acclimatise to his new role as hubby? He needs to learn what it's like to feel truly whipped and who better to teach him the vital lesson than a sexy dominatrix?
If the rest of the guys get to spend an hour laughing at his discomfort, well that's just a happy bi-product.
You can, of course, use a smattering of some of the world's finest platitudes
It's for your own good.
It'll hurt me more than it hurts you.
Take it like a man.
We're laughing with you, not at you.
Bend over and think of England.
We're all here for you.
It hurts more coming out that it does going in.
Ok, you asked for it, I'm going to give you a damned good thrashing!
Sounds like a cry for help.
And our personal favourite...
Ohh, now that's gonna leave a mark!
Your dominatrix (who'll be dressed for the part) will show you around some top bars while teaching the groom a damn good lesson. You'll also get a free shot in the first bar and get to see the groom reduced to abject terror as she makes him her 'bitch' for the night.
Big laughs, big pain.