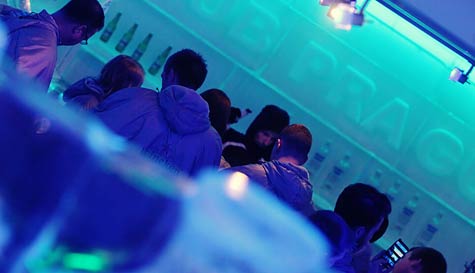 There are three things you need to be a true stag leading genius:
ONE - A rudimentary understanding of 80's white boy rap
TWO - A super chilled out venue 'where the party is jumpin'
Three - If there is a problem yo, you'll solve it so they can check out your hook while you DJ revolves it
If you consider yourself to be a true drinking expert (and if you're taking charge of the stag weekend we hope you are) then stop, collaborate and listen because you should at some point have drunk in all conditions and the weirdest of circumstances. This amazing ice bar definitely ticks a few of those boxes and you're no 'drinking ninja' until you've drunk an ice-cold drink from a glass made of ice, looking at the sculptures made of ice, while sitting on a barstool made of ice, inside a bar, yep you guessed it, made of ice.
The bar is kept at a rather fresh -7 degrees celsius; which is the perfect temperature for the free cocktails inside. When you arrive (escorted by one of our lovely female guides) you'll be kitted out with jackets and gloves. You'll then head through to the bar and enjoy a free drink each with three amazing cocktails and Heineken Extra Cold to choose from. The time in the ice bar is limited to 30 minutes, any longer than this and you're at risk of exposure. Yeah, a bar that has to kick you out not because you're drunk, noisy or arguing with the quiz machine but because staying in their too long could actually result in death.
After the ice bar, your guide will be on hand to help you into one of Prague's hottest clubs if required, you'll have guest list entry so there'll be no queuing for you. Just more chilling out and hopefully some suitably bad dancing.
PS - Apologies to anyone who now can't get Ice Ice Baby out of their heads. Word to your mother!