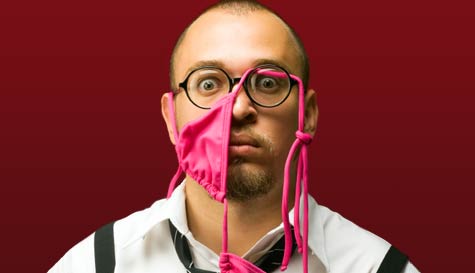 Getting a stripper for the groom is a stag party tradition as old as time itself. So put a twist on a classic (and a look of horror on your groom's face) by hiring one of our larger than life strippers to entertain the main man before single life ends for good.
Arrive at the club and find a table already reserved and waiting for your crack squad of groom pranksters. Once you're all seated you'll be served a fantastic steak and chips meal, fit for lords like yourselves. To stay properly hydrated each of you will be served with two free beers as you enjoy your man food. When everyone is properly fed and watered you'll be escorted into your private room where the groom will no doubt be looking forward to his naughty treat. Unfortunately for him, a massive stripper will be waiting for him when you all get there.
As an added bonus (for you) why not blindfold the lucky boy and lead him in blissfully unaware of what awaits him, or maybe you could dress him up in something suitably embarrassing as well. She'll proceed to give your groom a naughty dance of her own as he looks on in horror. What's more, you'll all get to watch as events unfold!
His embarrassment will last a full fifteen minutes giving you time to take PLENTY of pictures to use against him in the near future (maybe as a visual aid in the best man speech?). No good stag party is complete without a prank or two and this is just about the biggest prank you could pull! So earn your best man points, with the other guys, by stitching up your groom in a way he'll never see coming… Actually she's pretty big so maybe he will?