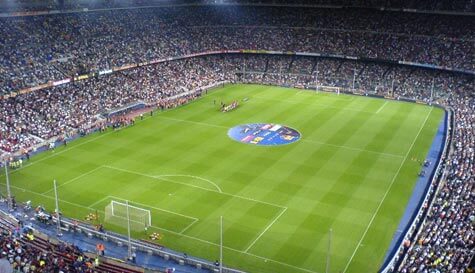 This is your chance to pick up advanced tickets for a Barcelona FC match and have one of the most unforgettable, footballing experiences possible. No one comes close to the Spaniards in regards to living and dying by their teams' fortunes and the city is simply electric during match days. And this is your chance to be a part of it.

This is world-class footballing action of the very highest order. The roar of the locals, the europhia of the fans, the sheer energy and power generated by the famous 98,000+ capacity Camp Nou stadium. It's like nothing you or the boys have ever experienced before, and you won't want to miss it.

Formed in 1899, Barcelona has won over 22 league titles and 4 Champions leagues. Barcelona is a symbol of true Catalan culture, hence the motto "Mes que un club" - More than a club. You'll get to experience this fantastic passion and culture while having an excellent time and enjoying a cerveza or two.

If you can't be in town for match day tickets we recommend a full stadium tour, with amazing behind the scenes access. Read more about the Stadium Tour.

Or if you're itching for a kick-about line up a game of Bubble Football, it's like the beautiful game but with more laughs and a lot more fouls! Read more about Bubble Football.

Full ticket price must be paid on booking. This is in order to guarantee your preferred seating.