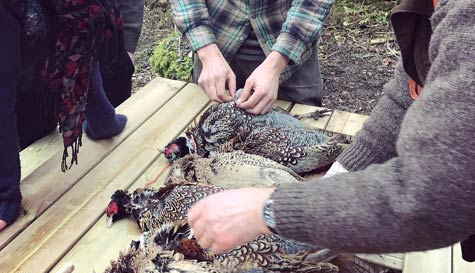 You've asked yourselves the question before now, in fact, it's a question every man should be able to answer correctly...
Could you survive a zombie apocalypse? We're not talking "The Walking Dead" where Rick, Daryl and Negan seem to have a never-ending supply of hotdogs and crisps (Best Before dates anyone?). But what if there was no Tesco, not even a Lidl insight? Could you really cope out in the wilds, catching and sinning your own dinner, living off the land?
This fantastic wild cooking course really is a complete test of you man-card carrying credentials. "Yeah I could survive in the wild..." Could you? Could you really? Well yes, with the help of our experts you'll learn all the skills and get properly hands-on with game such as rabbit, deer, pheasants and more.
You'll learn to skin different types of wild animal and then turn them into delicious meals with just the rudimentary tools at your disposal. You'll also learn other vital bushcraft survival skills. This fantastic workshop is definitely one way to get prepared for your next BBQ and a fantastic chance to do something totally different and memorable for the big weekend. And there won't be a zombie in sight. We hope.
*Please note: Exact activities may vary depending on the season or types of game/vegetation available.