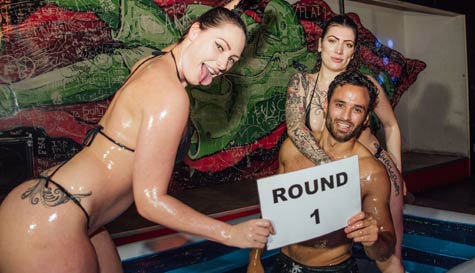 What is better than a stripper? Two strippers! And what is better than two strippers?

Two naked strippers wrestling covered in oil wrestling the groom and giving him a proper good thrashing.

Held in a private area of a restaurant, bar or club and exclusive to your party this will be the talk of the Berlin stag weekend, not only are the girls incredibly fit (and we're not just talking about their muscle power, although they have more than enough of that to subdue the groom), but they are true knockouts!

Once they've limbered up and given you all a bit of a show, it's then time to spring the surprise on the main man as he is suddenly told that he's actually the star of the show (although we're still sure the rest of the stags will be spending more time watching the girls than looking at his scrawny backside).

It's not just your right, but your duty as stags to ensure the groom gets a few uncomfortable surprises during his stag weekend. And it doesn't get much more uncomfortable than being stripped down to your keks, smothered in oil and pinned to the floor by two angry strippers while your mates watch on displaying all the sympathy of Man Utd fans seeing Arsene Wenger fall head first into a giant pizza.

Upgrades
- You can also add another stripper or a topless waitress.
- Or if watching the groom take a beating is making you peckish we can include dinner & beers.