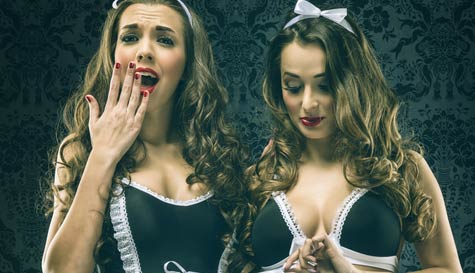 The groom will spend the rest of the weekend thanking you for starting his day with what is a great activity but also a brilliant stag do prank.
Sleeping beauty (a.k.a. 'The Groom') will be awoken by a knock at the door. He won't be expecting to be disturbed by room service but no matter what he says they won't be going away soon. No matter how reluctantly, sooner or later he'll have to go answer the door where the maid will be one seriously hot babe!
Now whether he has a penchant for ladies dressed as German maids won't matter (and quite frankly we're far too polite to ask), this absolute stunner will be delivering the kind of room service you definitely won't find on any other holiday.
Once inside his room (and the rest of the lads will have to be ready to scramble inside if they want to enjoy the show!), it won't be the sheets she'll be stripping! She will give the groom and the rest of the stags a very special private 15-minute show in the privacy of his hotel room. This is the perfect way to get the day off to an amazing start and totally stitch up the groom at the same time.
All the lads will be in on the joke making it an even better surprise for the groom. Unless he's a really heavy sleeper, in which case you can answer the door and have her perform the show while taking photos of him sleeping in the background! Now that would be an even crueller stag prank and you wouldn't stoop so low would you...? Would you?!?