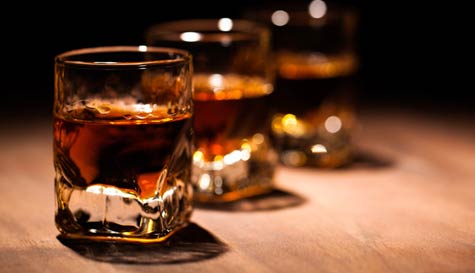 Learn how to drink whiskey like a pro. A friendly guide will teach you the secret of sampling whiskey properly to get the full flavour. This fantastic session is ideal for stags who enjoy the odd drink (or three).
The expert will introduce you to different types of whiskey and tell you how to spot the differences. You'll also learn how to sample it like an expert, the correct way to pour and importantly whether you should or shouldn't add anything to your whiskey when drinking.
You'll sample 5 different whiskies with snacks in between to help cleanse your palate. This is the perfect activity for cool, classy stags who appreciate the finer things in life.
Weird Whiskey facts
The Canadian and Danish armed forces regularly visit Hans island, a disputed territory between both the countries, where they remove the other country's flag and leave a bottle of Danish schnapps or Canadian whiskey.
If it's brewed in Scotland it's spelt whisky (without the 'e'), everywhere else it's 'whiskey'.
Scotch only refers to Scottish whisky.
According to experts, the best way to sample whiskey is with a drop of water (not ice). Neat whiskey is too strong to really appreciate the flavour.
In 1707 when the British government started taxing whisky, the number of illegal distilleries shot up. It's believed there were more than 400 in Edinburgh alone.
Whiskey comes from the Gaelic 'uisce beatha' which means 'water of life'.
During the fermentation process, 2 4% of whiskey evaporates through the barrel. This is known as 'the angel's share'.
Jack Daniels is a Tennessee whiskey, not a bourbon as many mistakenly believe.