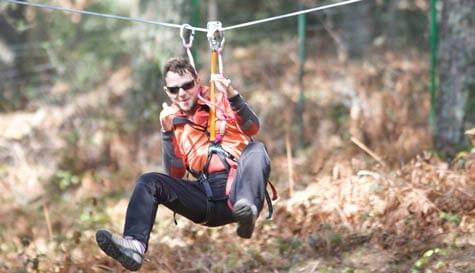 If you're looking for a way to cure those hangovers then leaping from the top of a tree and plummeting straight towards the ground should do it.
This is a top day out packed with adrenaline pumping action that will really get the guys buzzing. The day will begin with our friendly team picking you up from your accommodation and taking you to the site (approximately 20 minutes by car so enough time to put some caffeine in the system on route if needed). Once you reach the site you'll be met by the safety crew who will quite literally show you the ropes and get you kitted up with your harnesses and helmets.
You're then free to tackle the course at your own pace. There are 6 different courses in total, each varying in difficulty.
Aerial Assault Course by numbers
6 different courses
83 different obstacles
20 zip lines
Longest zip line 240 metres
Highest obstacle 12 metres (that's the equivalent of a 4 storey building!)
There is a great range of challenges and obstacles for the guys to overcome apart from the obvious lack of coordination caused by a weekend of solid stag action and liquid refreshments.
Tibetan bridges
High ropes
Monkey bars
Ziplines
Balance beams
Tarzans slings
Climbing walls
Please note: At StagWeb we take your safety very seriously. You will not be allowed to take part in the activity if you are under the influence of alcohol.