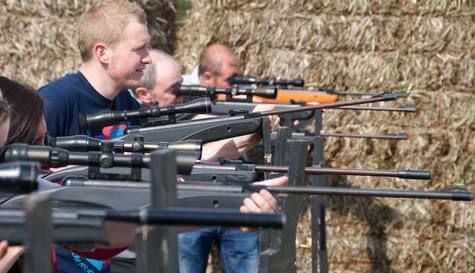 Attention stags! Your challenge, should you choose to accept it, is a day of extreme tests designed to stretch your abilities to the limit. There's no time for lily-livered yellow bellies in this stag's army as you'll need to tackle each activity head-on to achieve your objectives. There's no two ways about it, this is going to be dirty work but your country needs you, and we can't ignore the fact that some of you might not be coming back [er, actually you will - The Editor] as you face your mission improbable, later to be followed up by a mission in-pub-able.

You might not want to take orders from the groom (if he's daft enough to leave the safety of the bachelor lifestyle is he really the right man to gamble with your lives?) but you will have to listen to the ex-military instructors who eat wimpy stags for breakfast [actually they usually have muesli as they're watching their weight now - The Editor]. You can choose 3, 4 or 5 of these combat drills:
Sniper Shoot - With full tuition from ex-military instructors, you will be given a series of shooting challenges using high powered telescopic air rifles.
Close Quarter Battle - Learn how to carry out contact ops using airsoft machine guns, firing 6mm BB pellets at set targets as you patrol through the area.
Unarmed Combat - Under specialist supervision, you will be learning the basics of self-defence techniques including wrist locks, blocks and knife work.
Laser Combat - Whether you choose team play or last man standing, this is a legendary competitive stag activity.
Pistol Draw - Small arms training. You will be taught the basics of a draw, as well as a competition to test your skills.
Off-Road Buggies - Sometimes the best tactical decision is knowing when to just get out of there alive. High speed, off-road action.