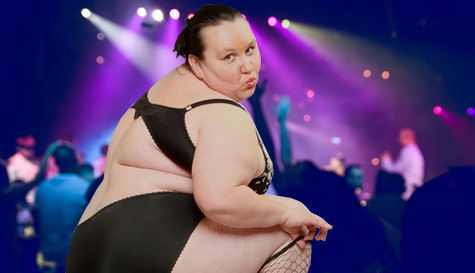 Once seen there are some things that just can't be unseen. In what is one of the greatest stag pranks ever he'll get a 'special treat' that will be burned into his mind forever!
Our top tip is to not tell the groom a thing. A friendly female guide will meet you at your accommodation and take you to the venue which just happens to be an entire strip club which will be yours for the hour.
Inside each of the stags will get a free beer. The groom will get unlimited free beer. He'll also get the scariest time of his life. He might've been hoping for a stripper but nobody would want the giant momma we have waiting for him! Big, bad and horrifically bouncy she'll give him the best and worst moments of the entire weekend.
Beer o'Clock
Each of the stag will receive a free beer
The groom will get unlimited free beer
More Punishment
You can also add an extra 'groom treat' to your session...
Jelly Wrestling - 2 topless wrestlers, 1 hapless groom, 1 giant pool of jelly. Fight!
Ask our team about adding an extra treat to your session.