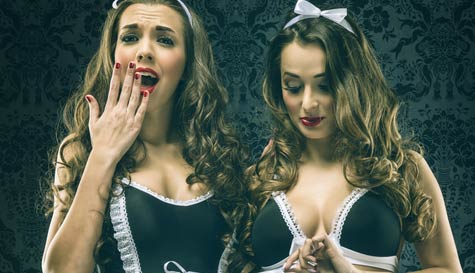 Getting the groom up and out without him spending an exhausting amount of time (and product) on his hair can sometimes be a real chore. And things are only going to get worse when his preening is interrupted by two (incredibly sexy) maids who need to get in and turn the room.

Although it becomes apparent very quickly that it isn't the beds these maids are stripping! And a tag team show will be performed right there in the groom's room while all the stags gather round to enjoy.

This is an absolutely brilliant stag prank and great way to put a smile on the face of not just the guest of honour but the entire group. The lads will be talking about it all weekend and it's certainly a prank the groom will thank you for.

If strip clubs and lap dances aren't for you then this is a great way of giving the stag a traditional stag send off without breaking any promises made back home about taking him to any "dubious" clubs. You can have conscience free fun, knowing that you have arranged nothing more than a bit of room service.

This is the perfect kick start to any stag day and it doesn't matter how hungover the stags are, they'll all make a miraculous recovery to make sure they don't miss this kind of room service!
Morning Glory
After such a great start to the day you can get the guys up and out early and straight into some action. Ask our team about lining up a full day of stag laughs including;
Stag Breakfast
Go Karting
Bubble Football
Paintball
Target Shooting
Lunch
Beer Bike
And more...
Contact us today to get your hassle free, stag weekend quote and get your party started.