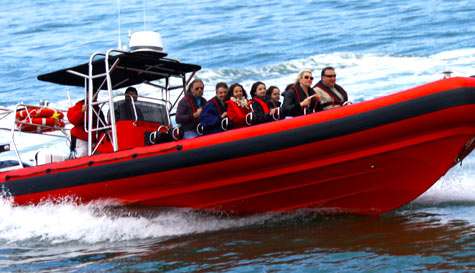 If you're looking for a high-speed stag adventure then these bad boys really knock the go-faster stripes off a lot of land-based challenges! Ribbing is a white-knuckle stag do ride where you can you take to the high seas aboard these amazing craft. Ribs are fast, lightweight and as tough as your nan's carrot cake. In fact, ribs are so tough they are the high-speed, no-nonsense, landing boat choice of special forces such as the SAS and Navy Seals. And now you and the guys can get your tough guy swagger on and hit the waves.
We can arrange exclusive rides for you and the boys setting sail from some stunning coastlines, in both the UK and Europe. But there's no time to sit back and enjoy the sun-kissed coast, if you want a pleasure cruise go join the hen party, most of this ride you'll be bouncing over the waves at high speeds, hanging on for dear life and chuckling at your hungover stag comrades who'll be regretting that second helping at the breakfast buffet.
The expert pilots can glide the huge, powerful engines over the waves with either barely a jolt or they can ramp up the action and create a bone-shaking ride that will have all the lads shrieking like school girls at a One Direction concert. This full-throttle, adrenaline-pumping activity really isn't for the fainthearted and will test your mettle and hangovers to the max. Yeah, you could be on a yacht, or in a canoe, you could be kayaking along the coast or underwater snorkelling. But let's be honest, none of those are half as much fun as cutting across the waves at roughly "WAAAAAaaaaaaarrggghhhh!" miles an hour.
The sheer power and speed of the ribs is seriously impressive as they cut effortlessly through the water and is a superb experience all the lads will be talking about.