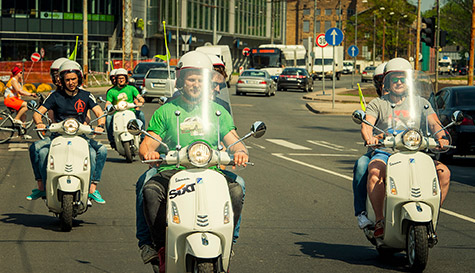 How much do you know about Riga? Answers on the back of a stamp to…
Yeah, it's one of those destinations you probably don't know much about but we can give you a few tips:
The local women are particularly stunning
The local alcohol is particularly lethal
The local beers are dangerously agreeable
It's surprisingly cool
It has some brilliant cars and bikes
And a laugh a minute treasure hunt
You and the guys will meet our local guide who'll give you a rundown of the rules of this brilliant treasure hunt before you take to the (not very) mean streets of Riga in this brilliant and (knowing most stags) fiercely competitive treasure hunt. Yeah, you'll be like really mild-mannered Hell's Angels, with a lot less horsepower.
You'll be given a quick lesson on how to ride the Vespa bikes which is pretty darn simple. Then it's time to mount up. You'll each have a safety helmet and map. Your challenge is to navigate between locations, solving all the clues and getting plenty of photos and videos at each location. You will of course also need to take plenty of photos of all the guys in action, looking totally fierce astride their metal horses.
Not only is this brilliant fun, it's also a great way to see the sights and get those photos most stag do's forget. Plus there's the competitive element. Who will be the sharpest mind? Who really should have done better? There'll be a prize for the winning team. You can set your own Stag Forfeits for the losers.