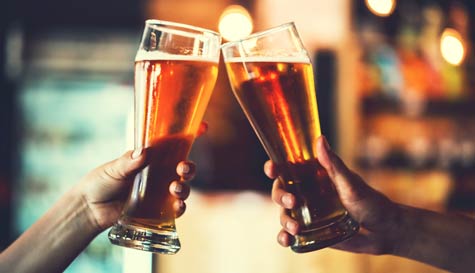 The groom's last night as a single man is all about giving him one final, delicious taste of the life which he's about to give up… For weekends in garden centres and dinners around the in-laws (is he crazy?!).
This incredible night gives you the perfect way to do just that with a few brilliant extras.
You'll have your own private party lounge with a special surprise in the form of a smoking hot strip show from a stunning fraulein. While you can serenade the groom from a karaoke machine with all the classics, "I think this could be, the greatest day of our lives…".
On arrival, you'll be shown to your private lounge-like true VIPs and welcomed with a bottle of spirits, 1 litre of mixer, nachos and for good measure, 2 bottles of beer each to lubricate those vocal cords.
Then you can choose from the database of songs and sing/murder your favourite best man-thems. All of this builds up to the main event, a smouldering performance from a gorgeous stripper. It's the stuff of stag do legend and remember, what happens in Berlin, stays in Berlin. Apart from the German beer, thank god.
Stag Party Songs
Sex Bomb Tom Jones
Pour Some Sugar on Me Def Leppard
Party Like It's the End of the World Steel Panther
Rock and Roll All Nite Kiss
Black Magic Woman Carlos Santana
She Bangs Ricky Martin
Story of a Lonely Guy Blink 182
Boys Will Be Boys Ordinary Boys
Shoot to Thrill AC/DC
Boys Are Back in Town Thin Lizzy