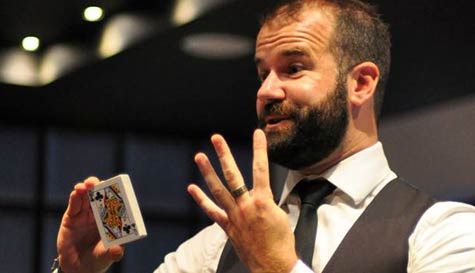 Imagine Britain's Got Talent without the pole dancing granny or cute/squeaky singing children. Yep, this show has stripped away all the boring stuff and instead piles on the comedy and magic.
The evening will begin when you're greeted by a close-up magician who'll amaze you with stunning tricks performed right under your noses. The action takes place in the bar where you can order drinks and/or a bite to eat. Your host will then lead you through to the intimate 1920's theatre which holds just 44 guests, putting you right up close to the tricks and illusions.
A comedy compere will introduce the show with its two comedy magicians. You will rarely find a theatre where you'll have such a good view of all that is going on and yet you'll still be left wondering "How the f... did he do that?!?".
The doors open at 7:15 when you can enter, make sure you have your drinks and have had any restroom breaks. Never, ever walk out on a comedy magician during his act, he has the whole stage for payback. The show starts at 8pm and finishes at 10pm. You can then stay and meet the magicians or head into the main bar for more drinks and live music. This definitely isn't your average stag night but it is brilliant and one of our top picks for Bristol stags.