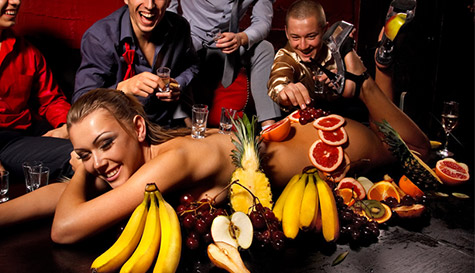 Our amazing Sexy Buffet is a great way to get the evening off to a flyer while you're in Ljubljana, one of the biggest party cities on the planet. You and your fellow stags will rock up at the venue to find an outrageously sexy dancer covered in whipped cream and fresh fruit. "Check out the melons on that!"
Your sexy plate will lie on the table for twenty minutes while you and the boys tuck into your delicious spread. Remember guys, the more you eat the cleaner the plate will be. "Well, it is important to get your five a day!". After you've had your fill, she will then stick around topless for a drink and a chat so you can all fully appreciate your human crockery in all its glory.
This awesome activity is a fantastic zesty twist on the stag classic strip show and is guaranteed to go down an absolute treat with the stag army. A great prank to pull on the groom or a fantastic part of a full evening's entertainment. So, kick back with a beer, enjoy some fantastically fresh fruit and take in the stunning sights.
After you've set yourselves up for that mega night ahead why not carry on the fun with our Guided Pub Crawl and Nightclub Entry so you don't have to faff around with queues. Contact a member of our team today for more information about creating that perfect stag weekend away in Ljubljana.
So, when you're enjoying some of the hottest nightlife Europe has to offer it makes sense to throw an incredibly hot sexy dancer into the mix because, let's face it, it isn't really a stag do until you've put a massive grin on the blushing bridegroom's face. "Now that's what I call fine dining. Bon appetit, gents!"