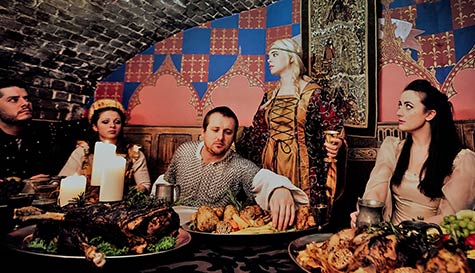 "Yay verily, well met are we this fine day my good fellows..." Ok, let's put all the olde worlde English to one side and focus on the fact that this is a superb way to feed the lads on a London stag do.
A four-course banquet...
A hilarious show...
All served by some rather buxom wenches...
What more can any stag do need?!?

You'll join Henry VIII and his court of troubadours, knights, jugglers, minstrels and medieval tumblers at this amazing medieval banquet. Not to mention those buxom wenches. "Raise your glasses gentlemen, for tonight we dine like kings!"

Sample menus*

Banquet Menu
Vegetable soup
Platter consisting of meat, cheese and pate, served with salad & pickled vegetables
Roasted chicken in a traditional medieval sauce, served with roasted vegetables and roast potatoes
A delicious fruit pie with cream
Vegetarian Option
Vegetable soup
Mozzarella and tomato tower with baby leaves and balsamic glaze
Roasted butternut squash filled with butterbean and root vegetable, and topped with cheese
A delicious fruit pie with cream
*Menu may vary seasonally.
Now, this might be a period meal there's no reason to go completely medieval, no sticking the groom in stocks or claim he's a witch and dunk him in water until he confesses. But you can really get into the spirit of things. Fancy dress is welcome if you feel like dressing up. Or better yet tell the groom it's fancy dress while the rest of the stags turn up in their usual civvies. It's his stag do, it's the least he deserves!