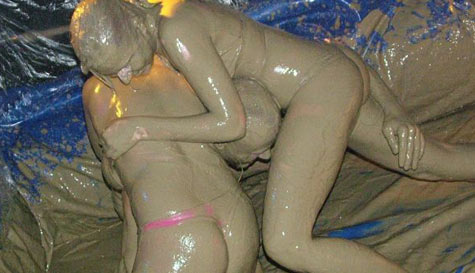 Picture it now ... loads of mud, a couple of bikini-clad ladies and an epic night of wrestling action for your stag party! You'll get to watch the battle commence before the groom is allowed (and strongly encouraged by the group) to get in the ring himself for some messy hilarity as he finds himself thoroughly overpowered by two expert mud athletes.

Of course, the groom might be a tad shy about entering into combat with two beautiful babes (especially if he thinks the bride will find out about it!) so if he's too stubborn to enjoy this fun-filled activity elect another willing stag to do battle in his place. There aren't many times in life that you get the opportunity to get slathered in mud and get hands-on with two feisty half-dressed girls, so make the most of it and enjoy this unique classic!

Whether the groom is always bragging about how good he is with the ladies, how athletic he is or how he can handle himself in a sticky situation: this epic activity will put all three claims to test. Our mud wrestling is all about having good fun with all your mates so relax and soak up this ridiculous spectacle!

If you can, it's worth leaving this as a surprise for the groom; watch his jaw drop as he realises what's going on for a classic stag photo.