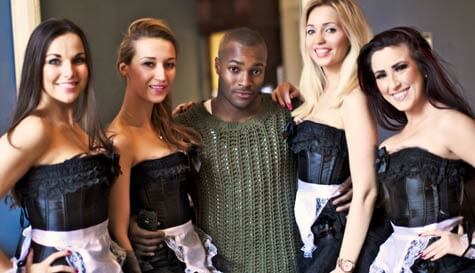 If you're looking to put a smile on the blushing bridegroom's face and add some eye candy to the weekend then our stag party French maids will not disappoint. These stunning hotties will be your hostesses for the evening, serving drinks and food to the lads and just generally making the place look amazing!

These gorgeous babes are as smart as they are smoking and more than capable of joining in a little banter or helping play a prank on the groom (within reason). In fact you don't even need to let him in on the surprise, not one, but two gorgeous maids could escort him to dinner or be waiting to greet him on arrival. The maids can also mix fantastic cocktails for the guys to enjoy.

The maids are only yours to enjoy and will work in the confines of a private residence or hired venue such as self-catering accommodation and are the perfect way of balancing out the gruesome mugs of some of the stags (let's not name names or point fingers...). Photos with the girls may be requested as long as the girls feel comfortable.

Great fun - Outgoing - Intelligent - Hardworking - Gorgeous

This is a fantastic way of giving your stag night a real boost and improving the scenery no end.

Please note, for the maid's safety, certain rules apply:
The maids only work in pairs.
They must be able to work in close proximity for the duration of the two-hour booking.
Private venues only.
The maids will need a private, secure area to change and leave their belongings.
Strictly no touching.
If any of the guidelines are not met during the event or the maids should feel threatened they might leave the event and no refund or compensation offered.