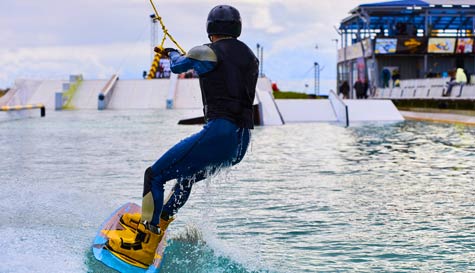 There's no two ways about it, wakeboarding is cool! For those not in the no, stag party wakeboarding in Southampton involves being pulled over the water on a single board, a lot like a snowboard.

Once you've got kitted up in your wetsuits (and we have every faith you guys are going to make them look cool) you'll see the incredibly sophisticated cable system and head to the water. Each stag will then take it in turns to have 1-to-1 instruction so everyone gets the most from the session.

The cable system can be minutely controlled giving the instructor a much smoother rate of delivery to each student giving him a far greater chance of starting successfully and making a good run over the water. Cable systems are much easier for beginners compared to boats as they don't create a spray or awake to disturb the water or get into the trainees face. Effectively the newbie gets to take off over calm, smooth water, so any failings will be his and his alone.

And that's a big part of the joy for a Southampton wakeboarding stag party, you get to completely rip into each other. As each stag hits the water (in some cases literally and repeatedly) the rest of the stags will be watching on to tell him exactly what they think of his efforts.

Expect extreme thrills, a great new sporting adventure and plenty of sharp-edged stag banter all in a stunning location close to the Hampshire coast.