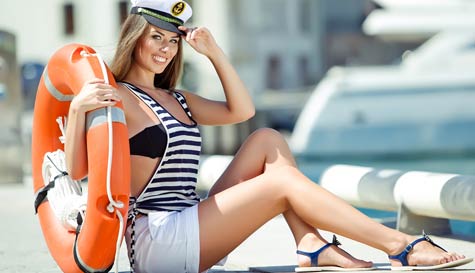 Sightseeing? Surely all the guys' girlfriends and wives back home won't object if you all enjoy a nice scenic tour of the beautiful River Spree? It's a perfectly cultural way to explore this fantastic city and learn a little more about its history. And it's certainly not your fault if some stunningly hot German babe insists on slowly but seductively removing all her clothes while you're trying to read up about the Brandenburg gate!
Our Berlin stag party strip cruise is a fantastic way to start your evening and have the guys grinning all night. This is a private cruise which will be enjoyed exclusively by your party. That's your own boat, your own skipper, your own cash bar and your own red hot stripper!!
We'll arrange for one of our friendly local female guides to meet you at your accommodation. She'll take you to the boat where the captain and crew will welcome you aboard. Once the gangway is pulled up you will tour Berlin via the stunning River Spree. The city really is fantastic and looks even better at night, especially from the luxury of a river cruise. But it's not just the bright lights and architecture that are the best sights, onboard a flaming hot frau will be the star of the night as she treats you all to a fantastic 15-minute strip show. "Willkommen" indeed!
Our stag do strip cruise begins and ends in the city centre so you can start your evening with Restaurant Reservations to make sure the guys have some ballast on board before he drinking begins. At the end of the night, you can step off and walk straight into the city centre and more amazing action including:
Ask our team about lining up more action for your evening and "Lassen Sie uns diese Partei erhalten begonnen!" (let's get this party started!).