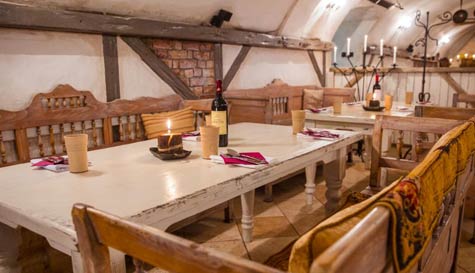 Every good stag weekend needs great mates, plenty of cold beer, great food and of course some fine eye candy. During this superb stag feast, you'll get all that and more.
Your evening will start with a charming female guide who will meet you at your accommodation and take you to the restaurant. Inside you'll be greeted by more charmers and shown to your table. The venue is superb with the furniture and art all reminiscent of the medieval age. Even the plates and cutlery will be like stepping back in time (although possibly with some of your mates getting them to use cutlery will actually be a large evolutionary leap for them?).
All the dishes hark back to an age when you could ride through the countryside like a lord, tonight you'll feast like stag lords, the waitresses are all in medieval costume. And there are 4 superb courses to enjoy. This is a feast indeed. On top of that, each stag will get 2 beers. Plus a chance to enjoy the best Slovak wine and beers.
This is a top night, a really different way to break bread and raise a glass or two to the groom. Once you've had your fill you can head on to more great nightlife. Ask our team about more stag madness to make this the greatest stag night ever!